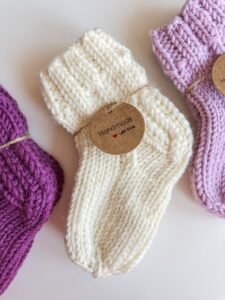 Handmade 100% Acrylic and Pure Wool Baby Socks. 0-12 months old. Super soft, non itchy. Made in Kullu Region of Himalaya.
Acrylic Wool:
1. Comes from Kullu Region of Himalaya.
2. Ultra soft.
3. Breathable.
4. No itching or skin irritation.
5. Suitable for those that would normally suffer allergic reactions.
6. Purely Hand Knitted Socks for Baby Boy and Girls.
7. Natural elasticity.
8. Ideal for children.
9. Best For Winters.
10. Luxurious feel.